Garage Door Remote Clicker
Back To Our Services
The professional garage door services provided range from repair and emergency assistance to replacement, installation and maintenance. Our skilled and experienced technicians have the knowledge and equipment to provide the ideal bent track fix or opener repair. We deal with all sorts of panel issues from decayed wood and rusty steel to cracked glass. In case of broken spring, twister roller step or failed safety sensors, replacement is swiftly provided thanks to our diverse range of replacement components. When it is time for door and opener replacement, the project is perfectly completed in the fastest manner. The all-encompassing maintenance service ensures effectiveness, safety, and security.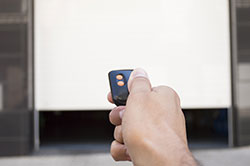 The major brands of remotes of garage door clickers that we work with are:
Multi Code
Liftmaster Security
Genie Intellicode
Clicker
Our garage door contractors at our Glen Cove Company will make sure that you have a garage door's remote clicker that works before they leave your home. Whether or not they can repair your existing garage door's remote clicker or replace it will be dependent on the situation. Be aware though that the garage door's remote clickers usually have to be replaced. This is really not that big of a deal because we keep many remote clickers from all of the different brands on hand in our shop. Because of this, there is rarely a time when replacing a garage door's remote clicker takes longer than just a few minutes. As long as you let us know your brand of garage door opener, you will likely have a new remote in no time.
Hopefully you will feel like your familiarity with our garage Doors Company was so positive that you will tell everyone you know to call us whenever they have a problem with their garage doors. Your testimonials do more for our reputation than anything else, so we are always sure to leave a customer pleased with the work that we do. We wish to build our customer base and we can't do that by leaving behind unsatisfied customers.