Garage Door Repair
Back To Our Services
Glen Cove Garage Door Company is the best place to call when your garage door needs a repair. We are equipped to handle all kinds of repairs, including the following: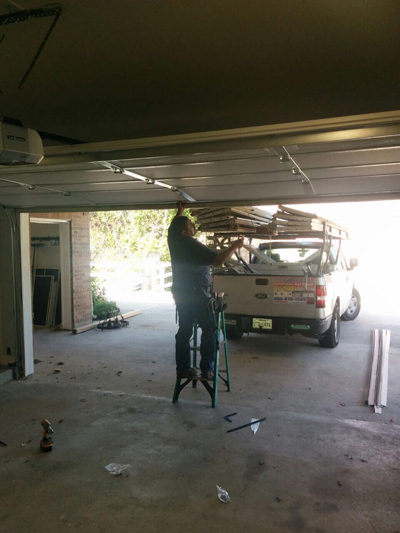 Garage doors replacement
Broken springs repair
Torsion springs repair
Garage door cables repair
Extension springs repair
Replace garage doors panel
In addition to the various repair services we offer to residents of Glen Cove, we also sell garage door replacement parts for those of you who like to do your own repairs around the house. We can even help if you have a garage door off track or need us to fix garage spring parts to keep your door functioning properly.
The high quality of our garage door services is defined by our studious knowledge, excellent technical skills, and complete dedication to the work. We provide efficient repairs to hardware, panels, and openers of all makes, types, and brands. Count on us to provide urgent safety sensors replacement or bent track fix via swift same day emergency service. All spare parts required are fully available at our warehouse. For fast and reliable garage door replacement and opener replacement, our company is a top choice. The professional maintenance provided includes everything from cleaning and lubrication to inspection and timely repair.
No Job Too Big or Too Small
Whether you need a repair of broken spring or a complete replacement of garage door in Glen Cove, no job is too big or small for Glen Cove Garage Door Company. Our highly qualified employees have experience in all aspects of garage door service, so you can rest assured that they will provide you with the best customer service around. Even small problems like having a garage door off track or needing us to fix garage spring mechanisms are no problem! We also provide same day garage door cable repair in Glen Cove.
Whether you have a lightweight garage door that needs extension springs repair, or if you have a heavy garage door that needs torsion springs repair, you can be sure that Glen Cove Garage Door Company can handle the job. We are available to handle a complete replacement of garage door in Glen Cove all day, every day, so please do not hesitate to call us if you need an emergency repair. We can also replace garage door panel pieces individually to protect your privacy. You have a garage to protect your car and other belongings from the elements, and we understand that you want it to be maintained. That is why we provide garage doors replacement parts in Glen Cove.